A monthly period box and learning hub to empower & provide teens with the tools to understand their body through their menstrual cycle.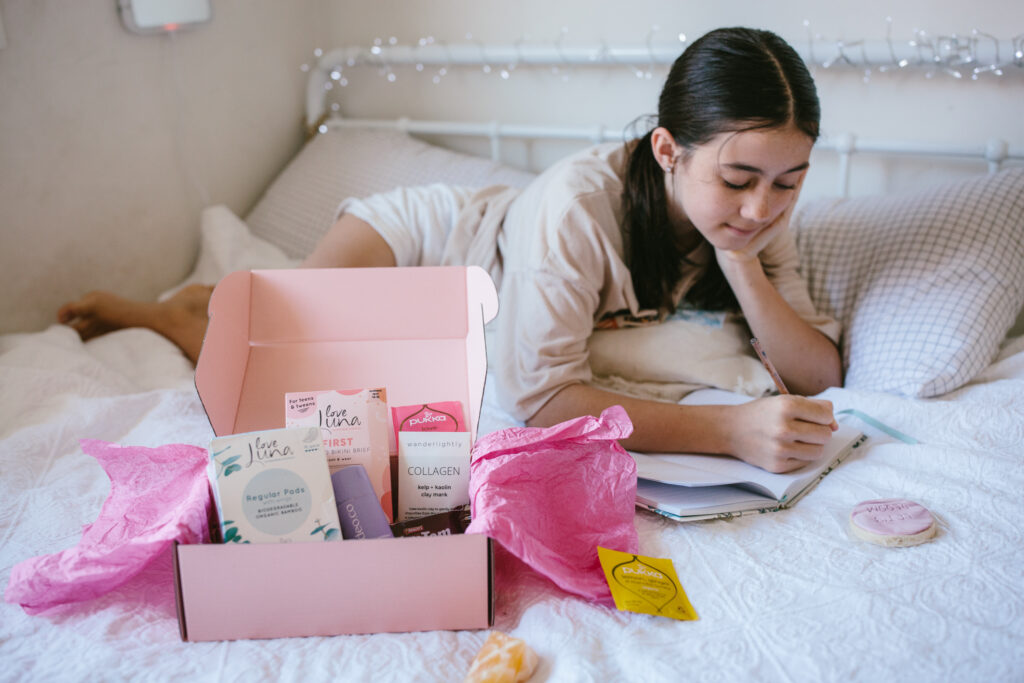 Whats included in the box each month?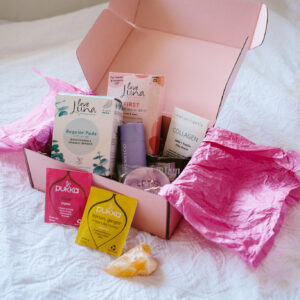 Sustainable Period Products
A choice of:
– Biodegradable organic bamboo pads, or
– Organic Cotton tampons
As well as a different pair of period underwear each month.  
All products are chemical and plastic free.  Best for us and the environment.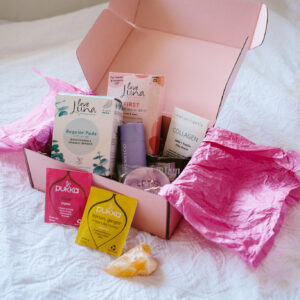 Self Care products and treats
Self care products will be hormone friendly and set your daughter up for a lifetime of knowledge and habits around working with her hormones and menstrual cycle.
Examples may include: deodorant, face mask, oil rollers, reusable wipes, bath soaks, journal.
Yummy treats to help her feel good when her period arrives.
I pride myself in supporting small business with an emphasis on sustainability.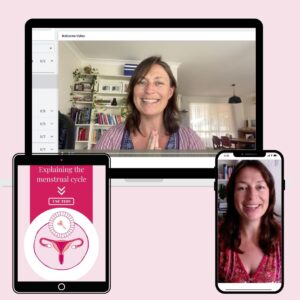 Learning Hub and Live Q&A's
Monthly themed educational videos to help you navigate this transition together.  From hormones to cycle tracking to understanding the four phases, this is the ultimate in self awareness through her cycle.

Live Q & A's hosted in a private instagram group where everything will be kept confidential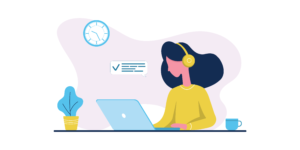 Subscribe to Blooming Periods Subscription Box for Teens
Subscribe before the 14th of each month to receive that months box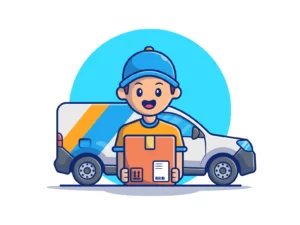 We prepare your box for shipment
We prepare your box ready to be shipped around the 18th of the month. (Note the first boxes will be shipped on the 18th  of October)
Your goodies and learning arrive
Educational videos and resources and your box will arrive no later than the 30th of each month.  Time to put you feet up and enjoy!
Why Blooming Periods Subscription Box For Teens
Sustainable period products delivered to your door monthly.
They'll learn to listen to their bodies cues to know what is normal and not normal for them
They will become empowered to know when their next period will be coming, rather than relying on apps on guess work.
Understand we aren't meant to feel the same each week, why this is and ways to support their body through each phase. 
Learn life long habits for what works for and against their hormones
PLUS, they'll have you, right by their side through it all.  Strengthening the mother/daughter bond as you help guide them through this rite of passage.
Can I change my period product selection each month?
Yes, you will be able to update your selections in your subscription management
I'm not a teen, can I get on this too?
Yes, absolutely!  I know this is needed by people of all ages, not just teens.  So whether you're a mother of a tween who has her period, or you're older than a teen, this will still be suitable.  If you don't see your size of underwear, please let me know and I will ensure you are catered for.
How is the learning delivered?
You will receive an email on the 30th each month with a link to the learning portal and video.  You will have access to the videos as long as your subscription is valid. 
When you subscribe you will be given a link to the private instagram account, where we will host the Q&A's.
When will my package arrive?
All monthly subscriptions ship at the same time – on or around the 18th of the month – and it should end up at your door by the 30th of the month.
What is your cancellation policy?
If you are on a month to month you can cancel anytime. If you agree to a 6 month or 12 month subscription you need to stay for the full commitment period. We do not do refunds on the already sent box. To cancel your subscription, log into your account management.
Do you ship worldwide + how much?
Our box is only available in Australia.  We will be looking at adding New Zealand in the coming months.  If you wish to get to access to the learning hub and you are not in Australia, please contact me,
Definitely not! You can skip or cancel at any time. Please note that if you are on a 6 or 12 month commitment plan, you have committed to pay for that full period of the subscription. You can skip months during a commitment term.
I want to include my product/service in the box?
I'd love to hear from you! Simply send me an email and I will get back to you.  I pride myself in supporting small business with an emphasis on sustainability.
Can I give this as a gift?
Absolutely! You can add a gift subscription to your cart. Choose the length of their subscription and be sure that you correctly enter your billing address but THEIR shipping address.